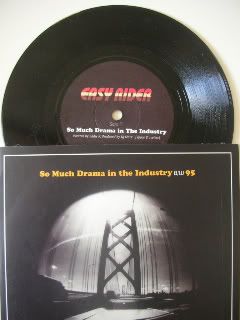 You might not have this one. In fact, I think it's kinda rare. I know it's dope. Executive produced and manufactured by the great Johnny LeMasters, who used to go under the moniker Sarge Shitface and once rode along with Joe Dub and Sacred Hoop to a legendary show in Chico that involved mushrooms and aluminum foil made jewlery, this piece of wax defines cutty. Around this time Mr. LeMasters (who culled his name from the hot-and-cold 80s Giants infielder) was also posing as a reverend and marrying unsuspecting couples in Golden Gate Park for cash. You hear him referred to as the "Rev" on Joe Dub's track, "95." Joey's self-produced track is best described by his a.k.a. Seabreeze, and I think the artistic vision of the record sleeve represents his migration from the San Francisco streets to the islands of Hawaii, but that's pure conjecture. I love how the back of the record gives the equipment used to make and record the songs and the locations where they were recorded in the liner notes.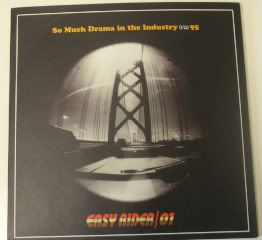 The legend of low-fi greatness behind the Eddie K and DJ Marz track, "So Much Drama In The Industry" as I remember goes something like this: Marz was staying with this girl in Oakland, referred to as "Bubbles" in the liner notes. Marz made the beat on his MPC 2000, then plugged both it and a mic thru his regular DJ mixer, a Vestax, Rane or something of the like, with the "out" going into his Sony mini-disc player/recorder (remember those little pieces of digital heaven?). Marz played the beat out the MPC and Ed rapped along at the same time down to basically a stereo one-track all in one take. Straight Schooly D "PSK" styleee, fool! Legend has it they did it in one single take (that's why the liner notes say, "One Take Jake) and then Marz ejected the mini-disc, handed it to Johnny LeMasters and said, "Press dem plates, Sarge!" Okay, Marz probably didn't say that and LeMasters probably wasn't even there, but talk about on the spot talent, Bulletproof Space Travelers come thru everytime. If there's 300 of these out there I'd be hella surprised. See if you can find it. And was there ever an Easy Rider/02?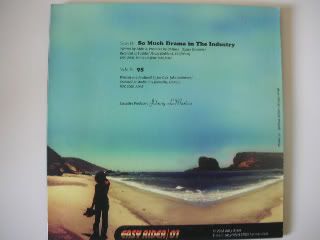 Look closely on the righthand edge of the back cover. Morgan Smail is listed as the Spiritual Advisor. Caddyshack heads know that's the kid that asked to eat his sister's steak fat, sucked down dead soldiers with cigarettes extinguished in them and puked thru the open sunroof of a Porsche. No wait, that kid's name is Spaulding! Who is Morgan Smail?