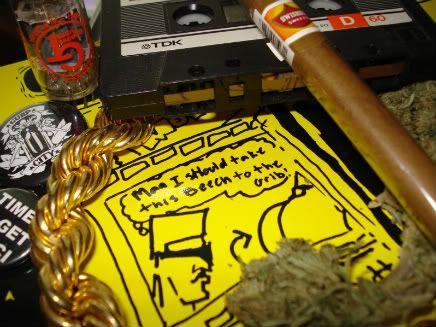 Debut of the new Ripped Open podcast. Recorded live in the Invincible Lab - runnin' rickety offa some scratchy records, shitty cables and a
Ball
jar of sativa. Broadcasting on 66.6FM, it's KOLD Radio. Since our limited broadcasting range only reaches a few feet outside of the Buddha Chamber, we present y'all with an archive of the inaugural show in mp3 format. Tune in next week to win a Royal Fam slipmat!
Ripped Open Radio #1
Playlist:

1. Agentstriknine "Ditch 'em, Diss, & Dismiss 'em"
2. 3rd BASS "3 Strikes 5000" (SD50 Bonus Beats)
3. Conspiracy Music "Slippin' Into Darkness" Feat. Tupac??? that's what the label says
4. BIG TWINS "B.I.G.T.W.I.N.S."
5. Grandaddy IU "Pick Up The Pace"
6. Mystidious Misfits "I Be" (Digga remix)

7. CPO "The Movement" (Remix)
8. Stark Reality "Shooting Stars"
9. Monty Alexander "Love & Happiness"
10. The Navy "Port Authority Bus Blues"
11. Hugh EMC & DJ X1 "Gangsta-matic"
12. Double X Posse "The Headcracker" (remix)
13. Trigga Da Gambla feat. DV Alias Christ "Hit Man For Hire"
14. some BoB James space shit